The Stitching, Sewing & Hobbycrafts Show - ExCel, London - 7-9 April 2016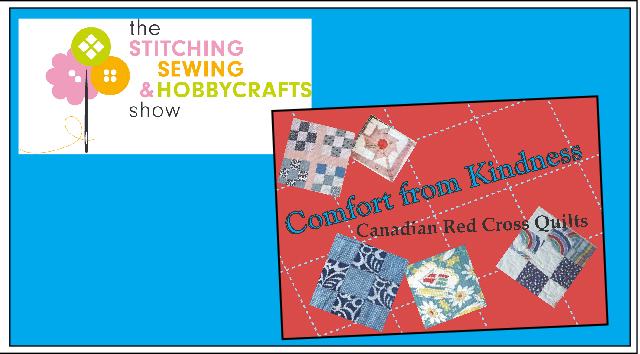 3 of the wonderful Canadian Red Cross Quilts on exhibition at the Weaving Musical Threads [WMT] trade stand in Hall N8 at The Stitching, Sewing & Hobbycrafts Show.
The CRCQ Research Group – Canadian Red Cross Quilt book Comfort from Kindness will be for sale
'One quilter with 18 children walked 2 miles every week so that she could sew...'
A wonderful opportunity to see this outstanding exhibition: quilts made by thousands of groups of women all over Canada, as a compassionate contribution to the WWII effort.
They were made with all manner of materials, sent over to the UK and given to displaced people: a beautiful gift of comfort, colour and warmth – with love sewn in.
Now a unique collection, preserved in celebration of quilting and social history.
There is also an opportunity to donate new blankets of compassion and comfort.
When
7th – 9th April 2016
OPENING TIMES
Thurs + Fri 10AM – 4PM;
Saturday 10AM - 5PM
How much
Advance tickets £10 / £9
(£12 / £11 on the door)