Full of heart and humour: a unique production of poetry, theatre and music.
A poignant tribute to the resilient and passionate 'Mill Girls'.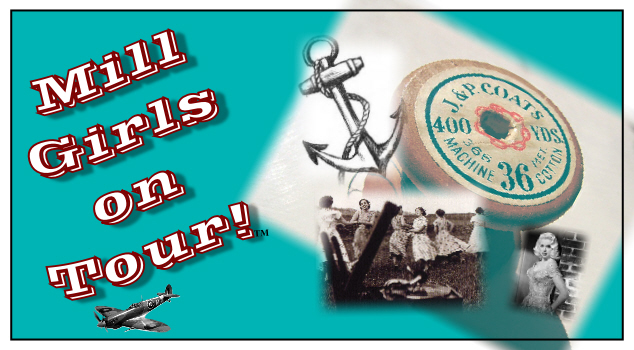 Join the Mill Girls: Rosie, Sadie, Betty and Agnes as they celebrate the lives of the thousands of woman who worked in Paisley's great thread mills in the 19th and 20th centuries, through captivating poetry, theatre and music.
Comic and tragic – Defiant and loving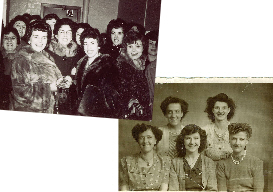 Paisley's Mill Girls were unique with their swagger and radicalism: 'Up the dancing' in their finery, protesting for equal pay, striding out in their thousands, 'making a whole town stop'.
Theirs is a familiar story taking its place alongside the great mill towns of Britain and the rich social history of working people.
From factory floor and war efforts to friendships and love, it is a show that is comic and tragic, defiant and loving, always dramatic and shimmering with glamour.
Poetry – Theatre – Music: As Never Before!
Paisley, Scotland's largest town, has a global significance as a textile town, from the world famous Paisley Pattern and Shawl, to young weavers experimenting to produce thread as fine as silk. The thread mills of Paisley once produced 98% of the world's thread.
In 1993 the doors closed on the mills in Paisley. Mill Girls On Tour, based on the 'Mill Girls' poems, is a poignant tribute to the mills legacy, the making of a place and its people.
UK Tour 2015

Image: Ferguslie Lassies, courtesy of Herald and Times Group
Mill Girls On Tour - a show for all ages, with a chance to meet the poets and cast.
It introduced literature to Talent Fest UK 2015 and performances were booked in Scotland and England – including signed performances.
Further bookings at festivals, events and one-off bookings will be listed here - see events along the right hand side of this page (or below for mobiles).
UK Tour 2015 Dates
| | | |
| --- | --- | --- |
| Newcastle TalentFest | Lancastrian Centre, Gateshead | 29 March |
| Liverpool TalentFest | Adelphi Hotel, Liverpool | 10 May |
| Booked! | Clydebank High School, Vale of Leven | 21 May |
| 3 Harbours Festival | Old Parish Church, Cockenzie | 30 May |
| Glasgow TalentFest | Woodside Hall, Glasgow | 20 June |
| CoastWord | Library, Dunbar | 26June |
| Sma' Shot Day | Main Stage, Paisley | 4 July |
| Pittenweem Arts Festival | Church Hall, Pittenweem | 1 August |
| Belladrum Tartan Heart Festival | Verb Garden, UHI Stage, Beauly | 8 August |
| Fringe by the Sea | Spiegletent, North Berwick | 13 August |
| Edinburgh Fringe Festival | Pilrig Studio, Edinburgh | 28 & 29 August |
| McLellan Arts Festival | Whiting Bay Hall, Arran | 3 September |
| Tidelines Festival | Harbour Arts Centre, Irvine | 13 September |
| Spirit of Moray Book Festival | Central Library, Elgin | 19 September |
| Wigtown Book Festival | Swallow Theatre, Ravenstone | 28 September |
| GWL/ Luminate Festival | Glasgow Women's Library | 8 October |
| Homecoming/RMHAFF/Luminate | Thomas Coats Memorial Church, Paisley | 25 October |
| Scottish Book Week | Mitchell Library, Glasgow | 25 November |
Cast

The Mill Girls On Tour cast is an exciting blend of Scottish and International poet, scriptwriter, actress and singer/songwriter:
Anna MacDonald – Rosie - is an international singer/songwriter who is from Scotland and based in London. (Anna's Facebook Page) Anna has written music – including the original Mill Girls Song - poetry and co-written the script for the production. Anna is also co-founder of Play For Progress and tours with the Artpakt collective.
Carmen Jongepier – Betty - is from Norway and as well as film and radio performance back in Norway, is furthering her studies at the Royal Conservatoire of Scotland.
Jody Jameson – Agnes - was brought up in Scotland and has returned after 12 years in London. Jody is an award-winning, professional actress who owns a theatre production initiative called 'SheSpeaks' and is also a director of the women's theatre company: Mama Quilla Collective.
Mo Blake – Sadie - lives in Scotland and is one of the original Mill Girl poets. (In the Herald) She is also one of the directors of Read Raw Ltd. Many of her poems form part of the script and she has co-written the script for the production.